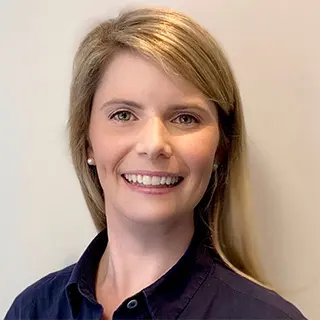 Phoebe Prott
Senior Physiotherapist + Clinic Owner
Growing up at the back of her dad's medical practice, Phoebe's innate desire to pursue a career in healthcare was ignited. However, her genuine passion for physiotherapy stems from a personal history deeply intertwined with high-level ballet and the subsequent challenges she faced due to multiple knee injuries.

Phoebe's journey started in her home state of WA, where she earned her Bachelor of Physiotherapy in 2012. Phoebe's path led her to Sydney in 2015, where she continued to flourish within the private practice landscape. Seeking new adventures, she relocated to the United Kingdom in 2018. During her time there, she predominantly focused on Musculoskeletal outpatient departments within the NHS, further honing her expertise.

Phoebe's primary area of work has been in private practice musculoskeletal and sports physiotherapy. Following her return to Sydney, she worked at Physio Inq Alexandria before taking the leap into business ownership, opening her own clinic, Physio Inq Marrickville, in 2021.  Since then, Phoebe has grown an administrative and therapy team, that works hard to service the clients in the local area. 

Over the years, Phoebe has consistently contributed to the field by actively engaging in clinical tutoring and supervising physiotherapy students in Perth and Sydney. This involvement continues as she collaborates with Macquarie and Bond Universities, providing valuable clinical supervision to aspiring physiotherapists who gain hands-on experience within her clinic.

With a commitment to individualised care, Phoebe strives to help each person achieve their goals through a holistic approach encompassing hands-on therapies and exercise-based treatments. Her profound affinity for Pilates shines through as she integrates mat and equipment-based techniques into her clients' personalised rehabilitation programs.